Ci hanno fatto una testa così. E' vero che il silenzio dei Daft Punk durava da ben otto anni, ma tutto questo rumore potrebbe finire per stancare.
Ma il duo electro chic francese, incurante del monito, ha trovato ancora un altro modo per attirare l'attenzione su Random Access Memories, il loro nuovo album.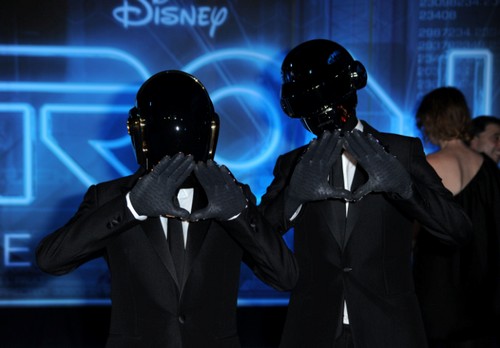 Nonostante la data di uscita di Random Access Memories sia ormai prossima – si tratta di aspettare meno di 10 giorni, il disco, infatti, sarà disponibile nei negozi il 23 maggio – i Daft Punk hanno ben pensato di regalare ai loro fan una chicca di un certo rilievo: Random Access Memories è disponibile in free streaming su iTunes.
Accorrete numerosi, quindi, così, nel caso aveste già preordinato il nuovo lavoro lavoro studio del duo francese, potrete sapere in anteprima se avete fatto un acquisto frettoloso o se ne è davvero valsa la pena.
In Italia questa pratica non è molto comune, mentre negli States è stata già sperimentata con successo da diversi artisti. Certo, bisogna essere parecchio sicuri di quanto si è fatto e, nel caso dei Daft Punk, il risultato di otto anni di attesa potrebbe, ma non è detto, deludere le aspettative.
Comunque, qui il link per ascoltare Random Access Memories – che sarà disponibile in free streaming solo per un periodo limitato – e, sotto, la tracklist ufficiale. Buon ascolto!
Random Access Memories – Tracklist
Give Life Back to Music (feat. Nile Rodgers & Paul Jackson Jr.)
The Game of Love
Giorgio by Moroder (feat. Giorgio Moroder)
Within (feat. Chilly Gonzales)
Instant Crush (feat. Julian Casablancas)
Lose Yourself to Dance (feat. Pharrell Williams)
ouch (feat. Paul Williams)
Get Lucky (feat. Pharrell Williams)
Beyond
Motherboard
Fragments of Time (feat. Todd Edwards)
Doin' It Right (feat. Panda Bear)
Contact (feat. DJ Falcon).