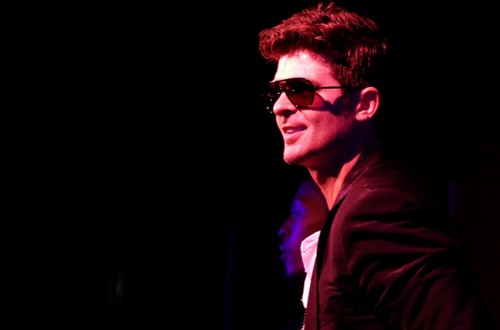 Il 15 novembre uscirà il nuovo album di Robin Thicke, Love after war. Il cantante statunitense, che raggiunse il successo mondiale nel 2003, con la hit When i get you alone, è al quinto album di inediti.
Love after war, infatti, verrà pubblicato a due anni di distanza da Sex therapy. Nel 2008, invece, è stato il turno di Something Else e nel 2006 quello di The evolution of Robin Thicke, disco che ottenne un ottimo successo di critica.
In attesa della pubblicazione del nuovo lavoro, la tracklist di quest'ultimo è stata resa nota:
1. An Angel On Each Arm
2. I'm An Animal
3. Never Give Up
4. The New Generation
5. Love After War
6. All Tied Up
7. Pretty Lil Heart feat. Lil Wayne
8. Mission
9. Tears On My Tuxedo
10. Boring
11. Lovely Lady
12. Dangerous
13. Full Time Believer
14. I Don't Know How It Feels To Be U
15. Cloud 9
16. The Lil Things
17. What Would I Be?
Photo Credits | Getty Images