Che il nuovo singolo di Robin Thicke, Blurred Lines, stia avendo un momento di particolare notorietà non è un mistero.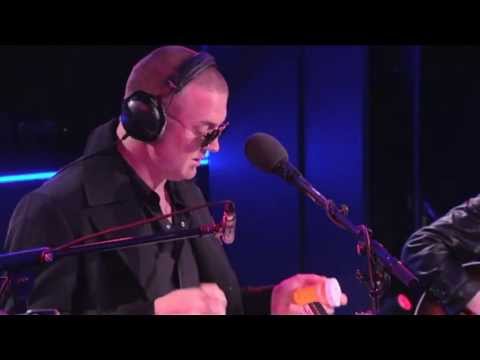 Oltre a tutto il rumore che si è creato intorno alle due versioni del video di Blurred Lines – una versione con modelle vestite e una con le stesse modello che indossano un tanga color pelle e niente più – su Internet hanno iniziato a circolare fin da subito tutta una serie di cover, più o meno professionali, di questa canzone, già arrivata al primo posto delle classifiche di vendita di mezzo mondo.
Poi accade quello che non ti aspetti: cercando le varie cover di Blurred Lines scopri che anche i Queens of the Stone Age ne hanno fatta una, spingendosi un po' più in là: la banda capitanata da Josh Homme, infatti, in diretta sul canale BBC Radio 1, ne hanno fatto un vero e proprio riarrangiamento, creando una versione acustica del brano.
Homme, accompagnato da Troy Van Leeuwen e Dean Fertita, ha creato una parte della base ritmica utilizzando come shaker una bottiglietta di pillole.
I Queens of the Stone Age hanno da poco pubblicato il loro ultimo lavoro …Like Clockwork che in questi ultimi giorni sta vendendo molto bene, tanto da essere in lizza per accaparrarsi il primo posto delle classifiche di vendita sia in UK che negli Usa, scalzando i Daft Punk, al momento diretti avversari proprio di Robin Thicke.