La serata di ieri sera ha avuto decisamente più ritmo rispetto alle due precedenti. Complice un originale flashback organizzato ma che nessuno si aspettava, in cui un uomo dal pubblico, ha finto di polemizzare per poi iniziare a cantare, e così tutto il resto dei numerosi membri del gruppo Shai Fishman and The A Cappella All Stars.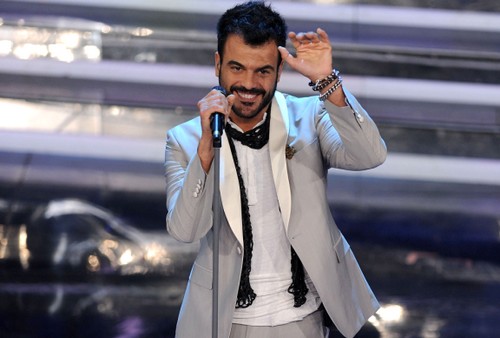 Il Festival si apre con un omaggio al maestro Claudio Abbado e l'Ouverture delle "Nozze di Figaro" di Mozart suonata dall'Orchestra del Teatro La Fenice di Venezia. Bello anche il monologo di Luciana Littizzetto, che invita a guardare con semplicità e senza pregiudizi tutti, se le donne rifatte meritano visibilità perché no i disabili?
A metà serata arriva Renzo Arbore, più  in forma che mai, inizia a coinvolgere allegramente l'Ariston con la sua Orchestra Italiana sulle note di "Ma la notte no", "Reginella" e "Come facette mammeta".
Per quanto riguarda la gara, nessuna eliminazione per i big, hanno cantato tutti e 14 i big ed è stata data una classifica provvisoria, per i Giovani passano il turno il rapper Rocco Hunt con "Nu juorno buono" e The Niro con "1969". Bello l'intervento dell'astronauta Luca Parmitano e magica la voce di Damien Rice che ha cantato "Cannonball" e "Blower's Daughter".
Ecco la classifica provvisoria dei 14 big:
1. Francesco Renga – Vivendo adesso
2. Arisa – Controvento
3. Renzo Rubino – Ora
4. Perturbazione – L'unica
5. Raphael Gualazzi & the Bloody Beetroots – Liberi o no
6. Cristiano De André – Il cielo è vuoto
7. Giusy Ferreri – Ti porto a cena con me
8. Antonella Ruggiero – Da lontano
9. Noemi – Bagnati dal sole
10. Riccardo Sinigallia – Prima di andare via
11. Francesco Sarcina – Nel tuo sorriso
12. Giuliano Palma – Così lontano
13. Ron – Sing in the rain
14. Frankie Hi Nrg – Pedala
Ecco il video di The Blower's Daughter, Damien Rice