Per quanti avessero sentito la mancanza di Suor Cristina, la vincitrice di "The Voice of Italy", la sorella ha dato notizie di sé, lasciando un'intervista al settimanale Dipiù di Sandro Mayer.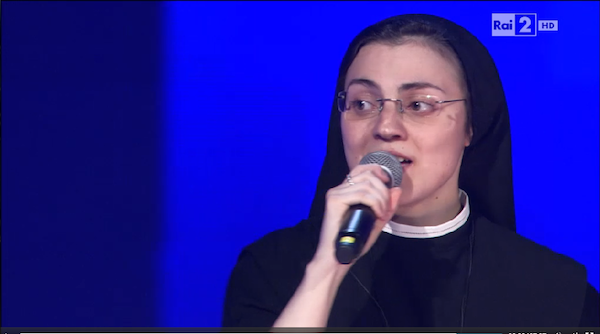 Ebbene la giovane suora ha detto di essersi ritirata in convento, subito dopo la vittoria a The Voice, probabilmente non voleva che tutto il clamore creatosi intorno a lei la toccasse più di tanto e così è stato. 
Anche quando si accenna al suo inedito "La Riva", sul quale il suo coach J-Ax aveva puntato tanto, scritto da Neffa, la suora non fa una piega. Eppure il pezzo non avuto successo, a livello di download è stato praticamente un flop ma suor Cristina non sembra affatto preoccupata:
Sono tranquilla. Non sono andata là per fare carriera. Assolutamente no. L'obiettivo era altro, quindi se il brano non è andato bene non mi importa.
In effetti se non c'era alcuna intenzione di fare carriera, non c'è davvero da preoccuparsi, chi forse è preoccupato è la Universal, che con la suora ha un contratto di 200mila euro e bisogna vedere cosa farne.
A tal proposito suor Cristina ha detto:
Per il momento è tutto nella mani della Provvidenza. Stiamo valutando tante cose perché è una scelta importante.
Per ora Suor Cristina sembra concentrata solo sul rinnovo dei voti.