Vi avevamo lasciato con un quasi nulla di fatto per Suor Cristina, la religiosa vincitrice di The Voice of Italy, che a quanto pare, subito dopo lo show, si era nuovamente ritirata in convento.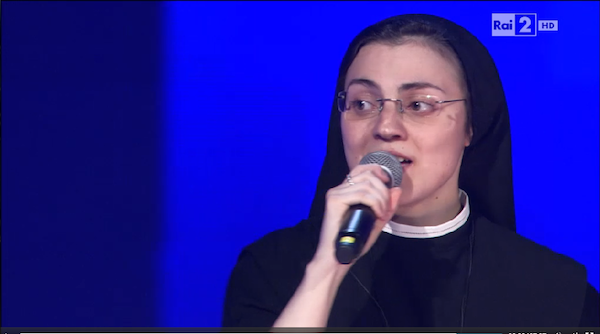 Nemmeno le parole del numero uno della Universal, con la quale la suora ha vinto un contratto, sembravano lasciare molto spazio alla speranza:
Siamo in attesa delle decisioni personali di Suor Cristina e di quelle del suo ordine religioso. Tutto prende più tempo di quanto non sia per noi normale quando si tratta di contratti e progetti di altri artisti. So che può sembrare inusuale non averla ancora in studio o con un album pronto, ma giustamente ci sono delle regole diverse che in un caso particolare come questo vanno rispettate.
E invece ecco che Suor Cristina rispunta, innanzitutto con un suo sito www.sistercristinaofficial.com e con un post su Facebook dal titolo "Sister Cristina coming soon". Accanto a questo c'è un video in cui è possibile vedere la suora in studio di registrazione cantare "No One" di Alicia Keys, pezzo che la portò alla ribalta, anche a livello internazionale, con le prime pagine del New York Times, i complimenti della stessa Keys, le parodie di Ellen Degeneres e le oltre 50 milioni di visualizzazioni su YouTube.
E a proposito di successo internazionale, l'idea che si fa sempre più strada è quella di un album pronto a sbarcare oltre i confini nazionali, visto anche l'appellativo scelto per la religiosa "Sister Cristina" e la comparsa di questo post sul profilo internazionale della Universal.