Suor Cristina non finisce mai di stupire e così come è stata una sorpresa la sua presenza sul palco di The Voice of Italy, potrebbe essere una sorpresa la scelta del primo singolo estratto dal suo disco d'esordio.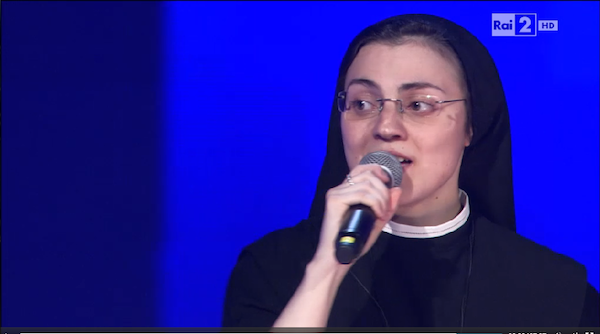 Secondo alcune voci, naturalmente non ufficiale, il primo singolo scelto per l'esordio della suora nel mercato musicale sarebbe la cover di "Like a virgin" di Madonna, pezzo a dir poco controverso, figuriamoci per una suora.
Il disco di Suor Cristina, o Sister Cristina, come forse la chiameranno in giro per il mondo, sarà un album di cover internazionali, il che avallerebbe questa possibilità, ma ci saranno anche due inediti.
Che sia stata scelta, dunque, deliberatamente, la title track del secondo album di Lady Ciccone come apripista del disco? Oppure si tratta della solita bufala online? O magari è una bella trovata pubblicitaria per aumentare l'hype sulla suora.
Quello che si sa è che su Amazon sarebbe apparso un link al preorder della cover, proprio la cover di "Like a virgin" e da qui sono partite tutte le voci.
Non ci resta che attendere l'uscita del primo singolo di Suor Cristina per scoprire la verità.