Il futuro di Suor Cristina appare decisamente incerto, una volta spentisi i riflettori della televisione. La suora vincitrice del talent show di Rai 2 The Voice Of Italy 2, ha di fatto vinto anche un contratto discografico con la Universal, che di certo l'azienda vorrà far fruttare in qualche modo.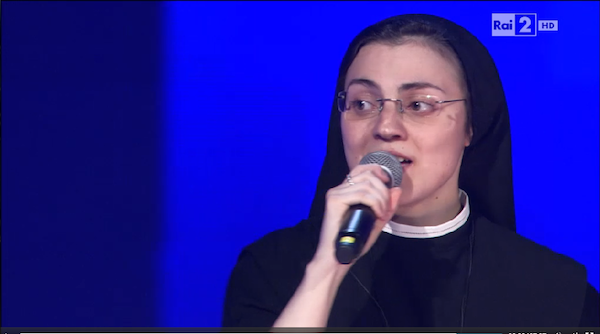 Vista l'accoglienza tiepida del singolo "Lungo la riva" scritto da Neffa per Suor Cristina, che non ha riscosso grande successo di vendita, ma visto anche il successo mediatico della suora, pare che ci sia in ballo un disco in inglese e un tour internazionale per la giovane sorella.
L'idea non sarebbe tanto campata in aria, visto la risonanza che le esibizioni durante lo show della suora hanno avuto a livello mediatico in tutto il mondo. Alicia Keys, Whoopi Goldbergh, Ellen Degeneres e così via, hanno manifestato il loro entusiasmo per Suor Cristina Scuccia, tuttavia Universal Italia intende mettere le cose in chiaro e a parlare è lo stesso direttore Graziano Ostuni:
Suor Cristina ha un contratto di esclusiva con Universal Italia. In questi mesi c'è stato un interessamento internazionale da parte dei colleghi di diversi Paesi, ma è ancora presto per parlare di un progetto di cover in inglese o di altro. Anche perché, per rispetto verso suor Cristina, vogliamo prima confrontarci con lei.
Tutto ancora da capire, quindi, il destino musicale di Suor Cristina.