Robbie Williams ci è ricascato. Dopo aver già pubblicato qualche anno un disco prettamente swing – Swing where you're winning del 2001 –  ha deciso di provare a bissare il successo ottenuto e, a partire dal 18 novembre 2013, Swings both ways arriverà negli store fisici e digitali.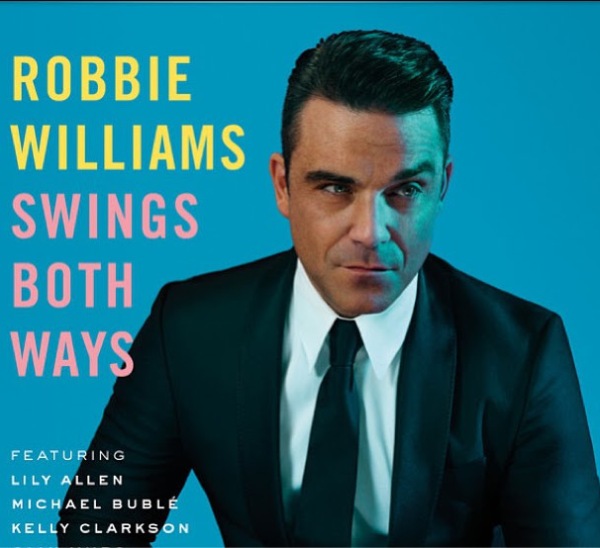 13 tracce in totale per questo nuovo album di robbie Williams, 5 delle quali non erano ancora mai state registrate e le restanti, invece, scelte tra i più grandi classici della musica swing. Per questi brani Robbie Williams ha deciso di duettare con molti dei suoi colleghi, tra i quali figurano Lily Allen, Michael Bublè e Olly Murs.
L'uscita del nuovo disco di Robbie Williams è prevista per il 18 novembre 2013, in tempismo perfetto per il Natale, periodo durante il quale saranno molti gli artisti che sceglieranno di pubblicare album più o meno a tema natalizio.
Robbie Williams – Swings both ways – La tracklist
Shine my shoes
Go gentle
I wan'na be like you – in duetto con Olly Murs
Swing supreme
Swings both ways – in duetto con Rufus Rainwright (brano originale)
Dream a little dream – in duetto con Lily Allen
Soda pop – in duetto con Michael Buble (brano originale)
Snowblind
Puttin' on the ritz
Little green apples – in duetto con Kelly Clarkson
Minnie the moocher
If I only had a brain
Swing both ways sarà disponibile in due versioni, la standard e la De Luxe, quest'ultima con tre tracce in più e alcuni filmati inediti:
-Dream a Little Dream (feat. Lily Allen)
-Soda Pop (feat. Michael Bublé)
-I Wan'na Be Like You (feat. Olly Murs)
-Swings Both Ways (feat. Rufus Wainwright)
Il primo singolo estratto da Swing Both Ways di Robbie Williams sarà Go Gentle, in uscita il 4 novembre 2013.