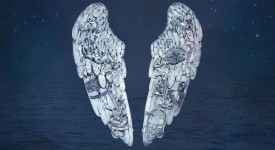 A Sky Full of Stars è il secondo singolo ufficiale dei Coldplay, tratto dal loro ultimo album Ghost Stories, in uscita il 20 maggio 2014.
A Sky Full of Stars arriva dopo il rilascio del primo singolo Magic, già grande successo radiofonico. In realtà i Coldplay hanno già suonato in più occasioni diversi pezzi di Ghost Stories, i cui testi sono stati sparsi in giro in alcune biblioteche del mondo fra libri che raccontano di storie di fantasmi.
Di seguito il testo e la traduzione di A Sky Full of Stars.
A sky full of stars
Cause you're a sky, cause you're a sky full of stars
I'm going to give you my heart
Cause you're a sky, cause you're a sky full of stars
And cause you light up the path
I don't care, go on and tear me apart
I don't care if you do
Cause in a sky, cause in a sky full of stars
I think I see you
I think I saw you
Cause you're a sky, cause you're a sky full of stars
I want to die in your arms, arms
Cause you get lighter the more it gets dark
I'm going to give you my heart
And I don't care, go on and tear me apart
I don't care if you do
Cause in a sky, cause in a sky full of stars
I think I see you
Because you're a sky, you're a sky full of stars
Such a Heavenly view
Such a Heavenly view
Traduzione
Perché sei un cielo, poiché sei un cielo pieno di stelle
Sto per darti il mio cuore
Perché sei un cielo, poiché sei un cielo pieno di stelle
E perché illumini il mio cammino
Non mi interessa, vai avanti e lacerami
Non mi importa se lo fai
Perché sei un cielo, poiché sei un cielo pieno di stelle
Penso di vederti
Penso di averti vista
Perché sei un cielo, poiché sei un cielo pieno di stelle
Voglio morire tra le tue braccia, braccia
Poiché mi dai più luce più si fa buio
Sto per darti il mio cuore
E Non mi interessa, vai avanti e lacerami
Non mi importa se lo fai
Perché sei un cielo, poiché sei un cielo pieno di stelle
Penso di vederti
Perché tu sei un cielo, un cielo pieno di stelle
Una visione così paradisiaca
Una visione così paradisiaca…