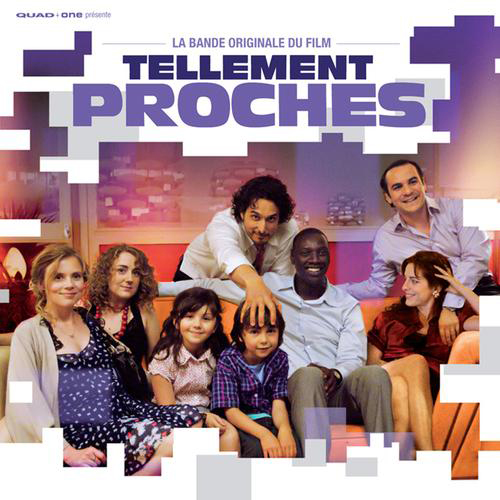 Titolo: Troppo Amici
Regista: Olivier Nakache e Eric Toledano
Anno: 2009
Alain e Nathalie sono sposati con figli. Ma Alain non si sarebbe mai aspettato i guai in arrivo con la famiglia di lei. L'invadenza di ogni elemento mina la stabilità della coppia, e come in ogni commedia familiare il culmine arriva a cena…
Tellement Proches – La Colonna Sonora
Frédéric Talgorn è un compositore molto attivo in Francia ma che ha prodotto soundtrack anche per il mercato mondiale. Sue sono le colonne sonore di alcuni episodi di Delta Force e del seguito del film di Heavy Metal. In terra natia ha composto le musiche per Asterix alle Olimpiadi e ha collaborato con Ludovico Einaudi al film Quasi Amici.
Tellement Proches: Original Motion Picture Soundtrack è composta da 15 tracce:
01. For Once In My Life – Stevie Wonder
02. Spooky – Dusty Springfield
03. Take Yo' Praise – Camille Yarbrough
04. Spleen d'Alain – Frédéric Talgorn
05. Es Klappert Die Mühle – Fun Kids
06. Seven Days In Sunny June – Jamiroquai
07. Family Business – Fabien Nataf
08. You're The One – Booster
09. Kol Aolam – Talina Boyaci
10. Let's All Chant – The Michael Zager Band
11. Say It Ain't So, Joe – Murray Head
12. Bruno & Roxane – Frédéric Talgorn
13. Beggin – Frankie Valli And The Four Seasons
14. Réconciliation – Frédéric Talgorn
15. Tellement Proches: Piano Solo – Frédéric Talgorn
La track di apertura, For Once In My Life, è una versione di Stevie Wonder, ma ne esistono molteplici cover (tra i quali abbiamo Frank Sinatra e Michael Bublé). Anche la canzone Spookie (di cui la versione di Dusty Springfield ha guadagnato notevole fama con il film Lock & Stock) è stata successivamente realizzata da R.e.m. e Imogen Heap.