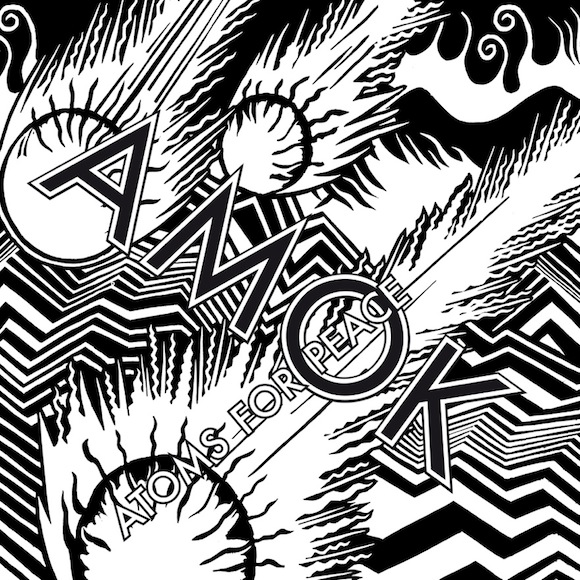 Sono pronti. Quello che al momento resta un nuovo progetto del vulcanico Thom Yorke diventa sempre più concreto. I suoi Atoms For Peace stanno, difatti, partendo per il loro primo tour.
La band è quello che viene definito un supergruppo. Come si potrebbe chiamare infatti un complesso nel quale militano, oltre al leader dei Radiohed, anche Flea dei Red Hot Chili Peppers ed il produttore Nigel Godrich, già al lavoro sia con i Radiohead che con i Red Hot, del resto, in passato? Ebbene, con il trio ci sono pure Joey Waronker e Mauro Refosco, ma a quanto sembra non mancheranno altri ospiti.
La carriera del progetto è partita lo scorso mese in via, ormai, ufficiale sulle note del singolo Judge jury and executioner. Ma manca davvero poco all'uscita del loro primo album, Amok, in arrivo il 25 febbraio. Ci siamo, insomma, tant'è che arriva la notizia anche di un primo tour.
È stato lo stesso Yorke ad annunciarlo, tramite un post sul suo profilo Twitter: "Me & Nigel out & about with two turntables & a microphone – London 22feb, Berlin 8march, NY 14march. special guests & location to follow". Ci saranno dunque due dj e un microfono ed anche ospiti a sorpresa per questi tre concerti, che si presentano come delle evoluzioni al concetto di dj-set. Non è più un mistero, tra l'altro, l'amore di Thome per l'elettronica e i giradischi, che vanta sempre più esperimenti in tal senso.
Ed anche sugli Amos For Peace il riserbo è minimo. Già si sa che il loro nome è estrapolato da un discorso del presidente americano Eisenhower. Adesso, tramite Nigel Godrich arrivano anche le prime indiscrezioni sul sound.
Secondo lui il tutto ha un'indole jazz difatti, e ne parla così:
E' finito per essere una sorta di processo di interazione per quanto possibile, e pensavamo alle cose in un modo molto jazz, nel senso di blocchi musica dai quali creare arrangiamenti. L'album offusca i confini tra ciò che è stato generato in modo elettronico e quello che è stato creato da esseri umani, non importa se suoni organico, elettronico o meno. In un mondo ideale, penso sarebbe giusto dire che ci siano cose che suonano come meccaniche ma che in realtà sono fatte da persone, così come suoni reali che scaturiscono in realtà da delle macchine.  La cosa importante è unire il tutto in un insieme che funzioni. Non è un piccolo sforzo.