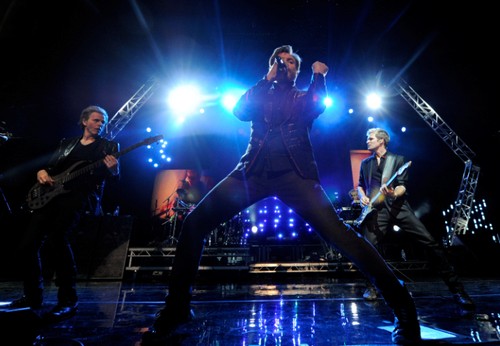 Il ritorno del sound anni '80 è stata una costante di tutto il decennio appena trascorso. Adesso tocca al remake dei '90. Figurarsi cosa succede se a dare vita ad album sono due tra i protagonisti di entrambi i decenni.
In più, il disco di debutto dei Tv Mania ha un pizzico di mistero dentro, visto che era andato perduto. Rispunta oggi, inaspettatamente, tra le scartoffie audio dei due membri del progetto, ovvero Nick Rhodes e Warren Cuccurullo, famosi per militare nei Duran Duran.
Ed è proprio durante una pausa dai, e dei, Duran Duran che il duo decide di dar vita a questa band. Era il 1995 e, a dire il vero, la coppia aveva in mente una trilogia. Così, insieme al polistrumentista e produttore Anthony J. Resta, registrano una serie di tracce per il primo capitolo di questa saga.
Bored with Prozac and the internet?, questo il titolo dell'album, però non è mai arrivato nei negozi di dischi. Pare che mentre il progetto veniva accantonato, difatti, il master è finito  per rimanere smarrito chissà dove. Insomma rispunta solo ora, dopo ben 18 anni.
Il sound ha un retrogusto cyberpunk. Del resto era pensato come la colonna sonora di quella che Rhodes e Cuccurullo immaginavano essere una bizzarra cyber soap opera incentrata su una famiglia che vende la propria libertà ad un manipolo di scienziati, in cambio di una vita trasmessa in mondovisione e all'insegna dei più sofisticati confort di alta tecnologia.
Insomma, gli 11 brani dei rinati Tv Mania pare usciranno, finalmente, dopo questa disavventura quasi ventennale, il prossimo marzo. A dichiararlo è proprio l'artefice del ritrovamento, Nick Rhodes, che dichiara:
Quando ho trovato i master delle registrazioni ho pensato subito 'Wow! Suona tutto così contemporaneo'. Quando li abbiamo sentiti non è stata solo una grande sorpresa trovare qualcosa che pensavamo fosse scomparso, ma è stato letteralmente come scoprire un vecchio dipinto e soffiargli via di dosso la polvere.