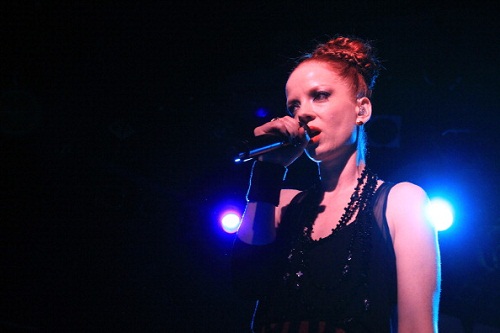 Il silenzio si è rotto. Ma, comunque, i Garbage, sebbene abbiano ripreso a fare dischi, mancano dagli scaffali dei negozi di dischi dal 2005. Nulla in confronto alla pausa lunghissima che si erano presi, certo, però è un po' che non si rifanno vivi.
Ebbene, pare che il silenzio si stia nuovamente per interrompere. Nei loro progetti c'è un album imminente.
Intanto stanno per pubblicare un singolo, in una prima tiratura limitata di 3000 copie. A dire il vero non si tratta di un brano loro, ma di una cover, quella della celebre Because The Night, appartenuta a Bruce Springsteen e resa celebre da Patty Smith. L'occasione è il prossimo Records Store Day. La traccia è stata registrata in compagnia dei Screaming Females, gruppo che ha accompagnato la formazione di Vig e della Manson nell'ultimo tour.
L'abbiamo incisa alla vecchia maniera
tiene a precisare il batterista e co-produttore del gruppo, Butch Vig
Loro sono venuti a Hollywood e abbiamo usato una grande sala di ripresa, come avrebbe fatto Phil Spector, per registrare due batterie contemporaneamente. Shirley e Marissa (Paternoster) si sono occupate delle parti vocali. Abbiamo tenuto quasi tutte le parti registrare insieme, facendo pochissimi overdub: ci abbiamo messo solo un giorno, e il risultato è stato eccezionale.
È sempre lui, intervistato da Billboard, a fornire i primi dettagli sulla lavorazione del loro prossimo album.
Abbiamo un paio di offerte di concerti, ma vogliamo provare a entrare in studio già il prossimo mese di giugno per dare il via alle registrazioni del nuovo disco. Siamo elettrizzati solo all'idea di farlo: non abbiamo ancora delle canzoni vere e proprie, ma delle idee di nuovi brani sì. Io, per dire, ho in mente dei riff, e un po' di altre cose che mi ronzano nella testa. Un tempo registrare un album ci teneva occupati per un anno intero, ma per 'Not your kind of people' ci abbiamo messo solo sei mesi: se quindi riuscissimo ad iniziare in estate e chiudere le session entro la fine dell'anno, il disco potremmo pubblicarlo già tra la primavera e l'estate del 2014.