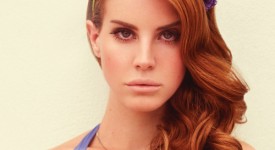 Prosegue l'uscita di svariati singoli dell'album Ultraviolence di Lana Del Rey. L'ultima novità è Brooklyn Baby, che fa seguito a West Coast, Shades of cool e Ultraviolence.
Riuscirà il nuovo album, prodotto con Dan Auerbach dei Black Keys ad eguagliare il grande successo di Born to die? Da questi primi singoli ci sembra che lo stile sia proprio quello soffuso e sognante della cantante statunitense.
Di seguito il testo e la traduzione di Brooklyn Baby.
Testo – Brooklyn Baby
hey say I'm too young to love you
I don't know what I need
They think I don't understand
The Freedomland of the seventies
I think I'm too cool to know ya
You say I'm like the ice I freeze
I'm churning out novels like
Beat poetry on Amphetamines
I say
I say
My boyfriend's in the band
He plays guitar while I sing Lou Reed
I've got feathers in my hair
I get down to Beat poetry
I'm a Brooklyn baby
I'm a Brooklyn baby
They say I'm too young to love you
You say I'm too dumb to see
They judge me like a picture book
By the colors like they forgot to read
I think we're like fire and water
I think we're like the wind and sea
You're burning up, I'm cooling down
You're up, I'm down
You're blind, I see
But I'm free
I'm free
Well my boyfriend's in a band
He plays guitar while I sing Lou Reed
I've got feathers in my hair
I get down to beat poetry
And my jazz collection's rad
I can play most anything
I'm a Brooklyn baby
I'm a Brooklyn baby
I'm talking about my generation
Talking about that newer nation
And if you don't like it
You can beat it
Beat it, baby
You never liked the way I said it
If you don't get it, then forget it
So I don't have to fucking explain it
And my boyfriend's in a band
He plays guitar while I sing Lou Reed
I've got feathers in my head
I get high on hydroponic weed
And my jazz collection's rad
I get down to beat poetry
I'm a Brooklyn baby
I'm a Brooklyn baby
Yeah my boyfriend's really cool
But he's not as cool as me
Cause I'm a Brooklyn baby
I'm a Brooklyn baby
Traduzione
Dicono che sono troppo giovane per amarti
Non so di cosa ho bisogno
Pensano che non io non capisca
La terra della libertà degli anni Settanta
Penso di essere troppo freddo per saperlo
Tu dici che io sono come un blocco di ghiaccio
Sto sfornando romanzi come
la poesia Beat sulle Anfetamine
Io dico
Io dico
Il mio fidanzato è nella band
Suona la chitarra mentre io canto Lou Reed
Ho piume tra i capelli
Mi occupo di poesia beat
Sono una ragazza di Brooklyn
Sono una ragazza di Brooklyn
Dicono che sono troppo giovane per amarti
Tu dici che sono troppo stupida per vedere
Mi giudicano come un libro illustrato
Con i colori come si si fossero dimenticati di leggere
Penso che siamo come il fuoco e l'acqua
Penso che siamo come il vento e il mare
Stai bruciando, sto raffreddandomi
Ti sei in piedi, io sono giù
Sei cieco, io vedo
Ma io sono libero
Sono libero
Il mio fidanzato è nella band
Suona la chitarra mentre io canto Lou Reed
Ho piume tra i capelli
Mi occupo di poesia beat
Sono una ragazza di Brooklyn
Sono una ragazza di Brooklyn
Sto parlando della mia generazione
Parlando di quella nazione più recente
E se non ti piace
Puoi andare via
Vai via, baby
Non ti è mai piaciuto il modo in cui l'ho detto
Se non lo hai, poi te ne dimentichi
Quindi io non cazzo spiegarti un ca**o
Il mio fidanzato è nella band
Suona la chitarra mentre io canto Lou Reed
Ho piume tra i capelli
Mi occupo di poesia beat
Sono una ragazza di Brooklyn
Sono una ragazza di Brooklyn
Già il mio ragazzo è davvero cool
Ma lui non è cool come me
Perché io sono una ragazza di Brooklyn
io sono una ragazza di Brooklyn