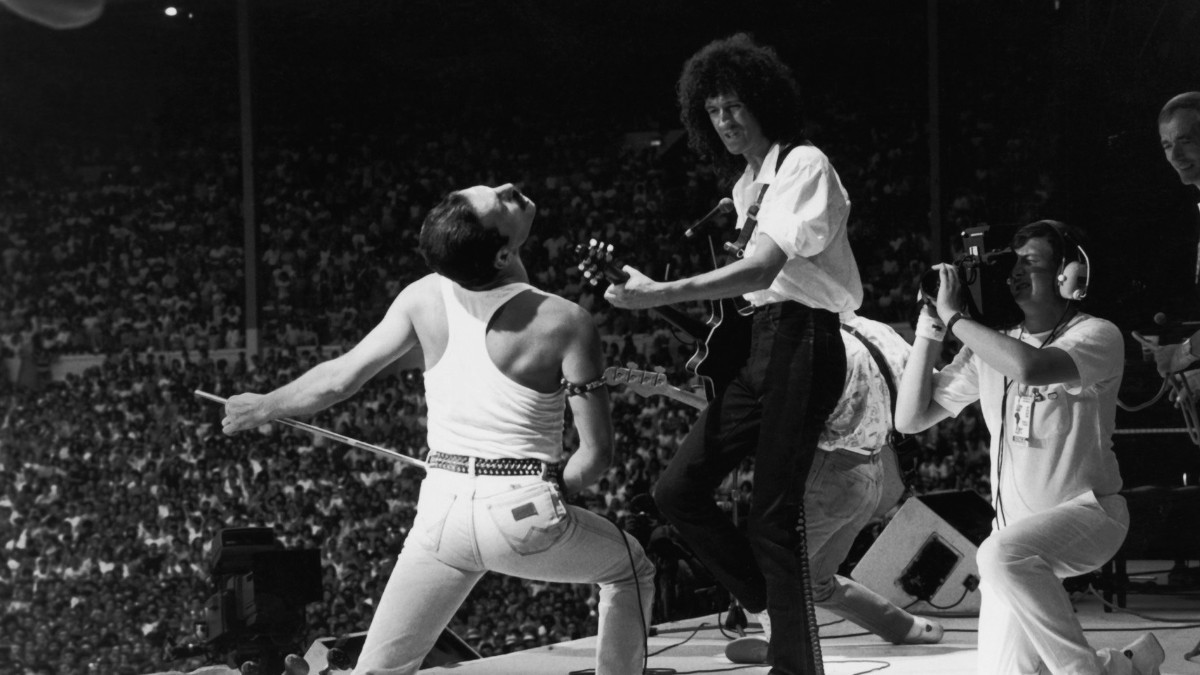 Rivedere i filmati dell'esibizione dei Queen al Live Aid significa visionare quel momento in cui 4 ragazzi con una carriera brillante alle spalle diventarono una leggenda. Ci aveva visto lungo Bob Geldof che seppur avesse colto la band in un momento di forte crisi insistette tanto perché Freddie Mercury e compagni salissero sul palco del Wembley Stadium di Londra.
Lo aveva detto lo stesso John Deacon, bassista talentuoso ma sempre nell'ombra, pur essendo artefice del trascinante riff di Another One Bites The Dust: i Queen erano ridotti a 4 persone che suonavano insieme, non c'era più l'affinità che li teneva legati agli esordi.
Portare i Queen al Live Aid significava trovare i testimonial più autorevoli di quegli anni, e la loro esibizione diventò una sorte di anno zero della band britannica che già aveva trascinato folle con la barocca Bohemian Rhapsody, aveva regalato un coro agli stadi con We Are The Champions, aveva creato legioni di fan con We Will Rock You e aveva dato un senso agli anni '80 con Radio Ga Ga.
Quegli stessi brani furono messi in scaletta con un Freddie Mercury che entrava in scena sollevando il pugno, indossando un outfit che sapeva molto delle "prime cose che si trovano nell'armadio" e facendo gridare la folla ammiccando, ballando sul palco e intonando tutti i brani senza sbagliare una nota. Il pubblico, la cui voce venne catturata anche dai microfoni del palco, cantò a squarciagola tutte le canzoni.
La partecipazione dei Queen al Live Aid rubò la scena a tutti per stessa ammissione di Elton John che scherzosamente li apostrofò con "bas***di". Non è un caso se quell'esibizione è stata scelta come sequenza di chiusura del biopic Bohemian Rhapsody di Bryan Singer con il premio oscar Rami Malek.
Lo scopo del Live Aid, organizzato nel Regno Unito a Londra e negli Stati Uniti a Philadelphia, era quello di raccogliere fondi per l'Etiopia e l'obbiettivo fu ampiamente superato. Ancora oggi la manifestazione è ricordata come il più grande evento rock di tutti i tempi.
Con il live dei Queen al Live Aid iniziò la leggenda di Freddie Mercury che diede esempio delle sue enormi doti di frontman e performer.