Oggi il Boss compie 64 anni. Sì, proprio quel Bruce Springsteen che, nonostante l'età che avanza, continua ad essere sulla cresta dell'onda e a dare filo da torcere a tutti i suoi colleghi più giovani. Lui è un rocker vero, di quelli che la musica la vivono in ogni sua sfaccettatura, tanto da diventare l'icona del rock a livello planetario.
64 anni oggi, 23 settembre 2013, per Bruce Springsteen, il giorno migliore per ascoltare una selezione delle sue più belle canzoni.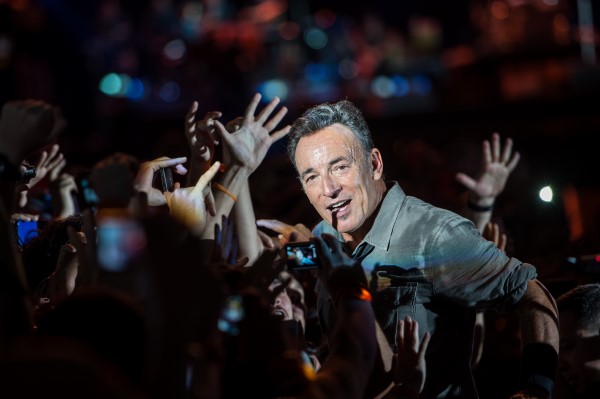 Nato a Long Branch il 23 settembre 1949, non aveva ancora 20 anni quando debuttò nel mondo della musica con la sua prima band, i The Catiles. Da lì la carriera del Boss è stata in continua ascesa e, ancora adesso, dopo che sono passati più di 40 anni da quell'esordio, Bruce Springsteen non ha perso neanche un po' del suo smalto e della sua potenza come artista e come personaggio.
Lui d'altronde ha inventato il rock americano, quel rock a stelle e strisce che nessuno dopo di lui ha saputo interpretare meglio. Bruce Springsteen sa come giocare con la musica e con le parole per arrivare dritto al cuore, indipendentemente dall'argomento che affronta con le sue canzoni.
Quando c'è il talento, il genio e lo spirito di sacrificio, il tempo non può che confermare il successo: Bruce Springsteen è uno degli artisti più premiati di sempre – come dimostrano l'Oscar per Street of Philadelphia, i tantissimi Grammy, la stella sulla Walk of Fame e i tanti altri riconoscimenti – e non bastano i 64 anni che si porta sulle spalle a fermare la sua incredibile carica ed energia.
10. Sad Eyes
9. She's The One
8. Tunnel Of Love