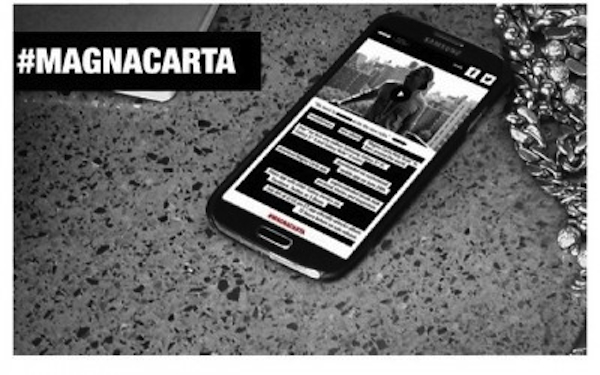 I fan aspettavano un ritorno solista dopo "The Blueprint 3", datato 2009. Sono stati accontentati. Bisognerà attendere ancora un pò, sino al quattro luglio, prima di ascoltare "Magna Carta Holy Grail". E' questo il titolo della nuova fatica discografica di Jay-Z, uno dei rapper più quotati di sempre.
Shawn Corey Carter ha scelto il giorno dell'Indipendenza degli Stati Uniti per dare alla luce l'album. Uno dei più attesi del 2013.
Per il momento, i più curiosi dovranno accontentarsi di un lungo video-teaser della durata di 3 minuti.
Lo 'spot' è andato in onda anche durante le finali del campionato NBA tra Miami Heat e San Antonio Spurs e vanta comparsate di alcuni tra i protagonisti del lavoro nonché amici del rapper: Rick Rubin, Swizz Beatz, Timbaland e Pharrell Williams. Niente male, vero?
Dopo 'Watch the throne' in coppia con Kanye West, che peraltro ha da poco dato alle stampe il suo album "Yezuus", Jay-Z torna dunque sulla scena.
Lo fa con un concept album che affronta il dualismo tra la vita di successo e la vita interiore. Tra la capacità di 'avere tutto' e la volontà di rimanere ciò che si è sempre stati.
Lo stesso Carter, marito di Beyoncé, afferma: "L'album praticamente parla della dualità di "Come fai a sopportare tutta questa roba, il successo, i fallimenti, tutto questo… e rimanere comunque te stesso? Dobbiamo scrivere nuove regole".
Norme che vanno dunque a finire nella sua 'Magna Carta'.
L'attesa sale alle stelle. Nel frattempo, i più fortunati che si trovano in America possono gustarsi lo show del rapper in coppia con Justin Timberlake. Il loro "Legends of Summer Tour" partirà dal 17 luglio.